What can I do if I am experiencing sexual harassment in my workplace?
We are here to guide and help you in how you can disclose the sexual harassment in your workplace, and how your company and co – workers should act.
( * Excepts taken from WorksafeNZ website. For more information visit Worksafe NZ
https://worksafe.govt.nz/topic-and-industry/sexual-harassment/advice-for-workers/
Documenting Evidence
When experiencing sexual harassment in the workplace it is important to gather evidence, to enable you to disclose and prove the abuse, should you choose to do so. When experiencing sexual harassment in the workplace, the victim should document the abusive behaviour. The time and date should be noted whenever something abusive is said by the perpetrator, or unwanted touching or abusive behaviour is performed by the perpetrator.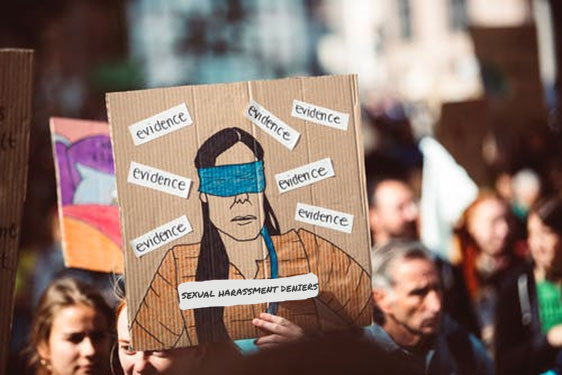 For each incident keep records of:
• How you felt
• The date, time and where it occurred
• What happened (who was present, what was said, who said what)
• If there were any witnesses.
When deciding what to do, remember:
• Your business must manage the health and safety risks from sexual harassment
• Your business can't help or support you unless it knows what's going on
• You're legally protected from discrimination and dismissal for raising health and safety issues or concerns (adverse conduct) Employment Relations Act 2000 - 110A Adverse conduct for prohibited health and safety reason http://www.legislation.govt.nz/act/public/2000/0024/latest/DLM1602758.html
To help in this process we also recommend not only documenting the behavior with times and dates but also using discreet recording devises. These devises can either be worn or placed on a desk for continuous recording of evidence. The recordings can be re- played and can be downloaded and stored onto computers.
These can be empowering tools for gaining evidence and also a tangible psychological support for the victim, to enable them to disclose the abuse should they choose to, and aid in the defense of the victim.

For further enquiries about these, contact us for more information.
Who can help?
See our First point of contact – Get support for ways to disclose your situation.
How must your business manage work health and safety risks?
1.Your business must ensure, so far as is reasonably practicable, the health and safety of workers, and that other persons are not put at risk by it's work.
2.Your business must, so far as is reasonably practicable, eliminate work risks. If a risk can't be eliminated, it must be minimised so far as is reasonably practicable.
3. Risks to health and safety arise from people being exposed to hazards (anything that can potentially cause harm such as sexual harassment.)
4. As sexual harassment is a common and known source of harm, your business is expected to have processes in place to effectively deal with it.
5.Your business must engage with you or your representatives about how it's going to manage the health and safety risks from sexual harassment.
All businesses should include an harassment policy along with all of their health and safety procedures when you receive your job description. Check your businesse's policies to see that they have included this.
Click here to view an example Sexual Harassment Policy from Worksafe NZ.
The below "Worksafe NZ " HSWA quick guide provides advice for workers in terms of sexual harassment.
Click here to view the guide | Sexual Harassment – advise for workers.
Who is this guide for?* Excerpts below taken from the Worksafe NZ guide.
Sexual harassment harms workers.
This guide is for workers, and provides advice on:
• What sexual harassment is
• How your business must manage it's work health and safety risks
• What to do if you see sexual harassment occurring
• What your options are if you're being sexually harassed
• What to do if you're accused of sexually harassing someone
• Who can help
Your business should have in place:
• A code of conduct which describes expected behaviours and what misconduct and serious misconduct is.
• Training for workers about sexual harassment (eg what sexual harassment is, what to do if workers see or experience it.)
• Procedures to report sexual harassment and to deal with such reports.
• Appropriately trained sexual harassment contact people available to workers.
See our quick guide Preventing and Responding to Sexual Harassment at Work – advice for businesses for more examples of possible control measures.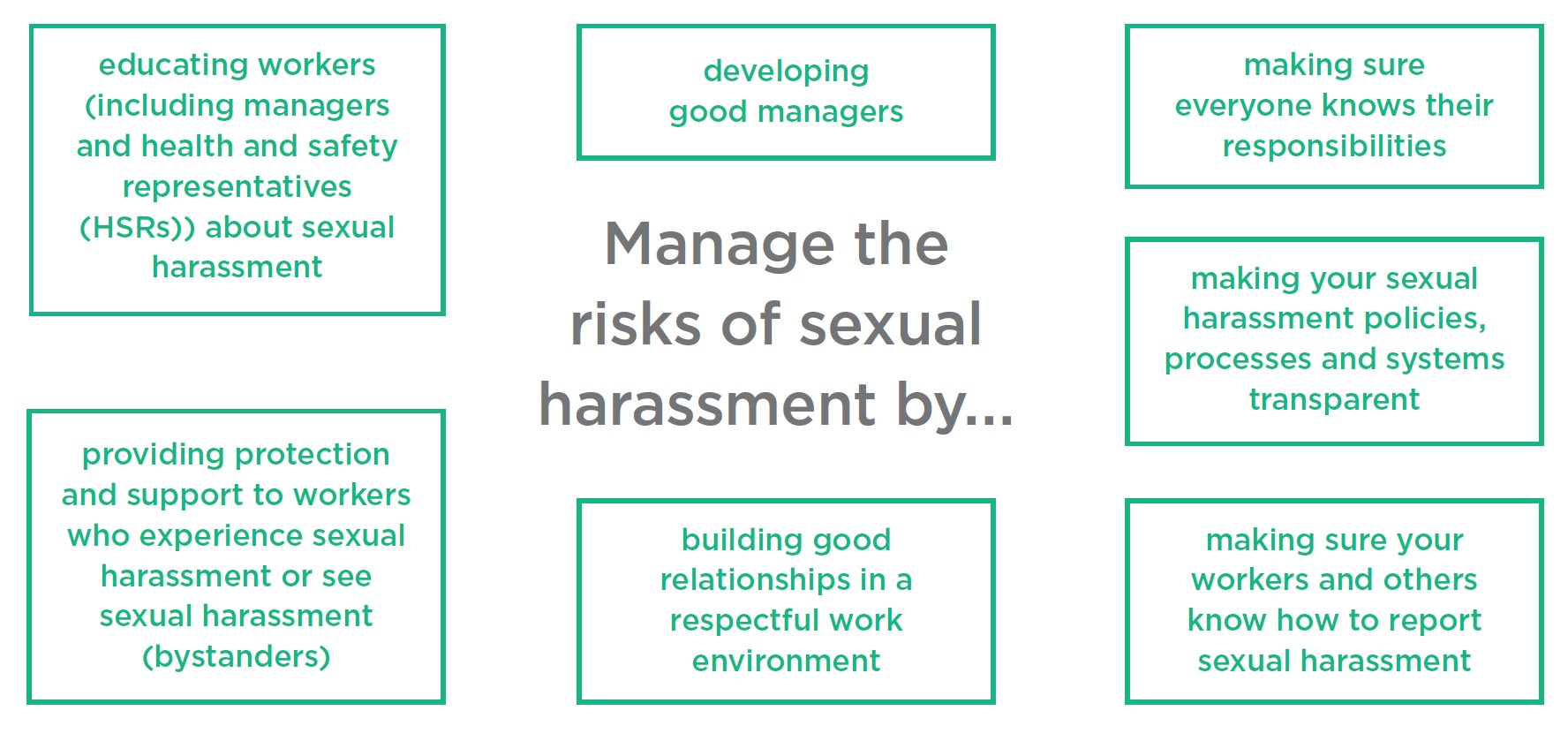 While your business must effectively deal with sexual harassment, everyone at work has a role in stopping sexual harassment from occurring.

What should you do if you see sexual harassment occurring?
The victim can be vulnerable to bullying by co - workers unwilling to help the victim for their own advancement within the company. Bullying on its own is not acceptable behaviour within a company, but combined with sexual harassment is a very toxic combination and must be dealt with and disclosed appropriately by the company.
Useful information can be found on Worksafe and Employment NZ. Also check out Fingerprint for Success, they have information on workplace bullying, including statistics.

• Bystanders (people that see sexual harassment occurring) can have an important role when dealing with sexual harassment.
• Bystanders can be supportive towards the person being harassed. Bystanders should only speak up to help someone who is being sexually harassed when they feel safe to.
• Bystanders can report the sexual harassment they see. If there's an investigation they may be named and interviewed as a witness.
• Bystanders should be offered support from the business, and be protected from being punished, bullied, or intimidated.
What should happen when you report sexual harassment?
When you report sexual harassment, your business should:
• Make sure both you and the other person involved are supported, (see Figure 2 WorksafeNZ guide for options) as soon as possible.
• Take reasonable steps to protect you from reprisals (eg protect you from being punished, bullied or intimidated because you made the report.)
• Tell you what interim measures will be taken to ensure your safety and welfare.
• Give guidance about how to respond to the other person involved ,if you remain in day-to-day contact.
• Seek your view about what approach it will take ,(see Figure 2 WorksafeNZ Guide ) and then as soon as possible tell you what will happen next.
Interim measures could include:
• Being reassigned to other duties or relocated to another part of the business until the investigation is complete.
• You or the other person involved taking a voluntary leave of absence until any investigation is complete.
• Depending on the circumstances ,the other person being suspended pending the outcome of any investigation.
What role can Health and Safety Representatives (HSRs) have in dealing with sexual harassment?
HSRs can help their business to develop it's sexual harassment policies and procedures, and advise workers on them.
For workers who experience or see sexual harassment, HSRs can:
• Help to report sexual harassment – including by telling you how to make a report or submitting a report on your behalf, (with your permission.)
• If they have the appropriate training, act as a support person – but to avoid conflicts of interest, the same HSR shouldn't support both sides of a complaint.
How should your business deal with reports of sexual harassment?
The below outlines the principles your business should consider when dealing with reports of sexual harassment. These are based in part on the principles of natural justice. Natural justice applies to both parties to a complaint.
General principles for dealing with reports of sexual harassment
• Take all reports of sexual harassment seriously and act promptly.
• Set timelines and deal with reports as soon as you can after you receive them.
• Carefully and clearly consider response options for the specific circumstance. Clearly communicate the process.
• Tell everyone involved what the process is.
• Let the people involved know if there are delays to timelines.
• Protect all the people involved, (including both sides of the complaint, support people and witnesses) from victimisation, (e.g. being punished, bullied, intimidated).
• Support the people involved.
• Anyone involved can have a support person present at interviews or meetings ,(e.g. in-house support person, their union delegate, colleague, friend, legal representative.)
• Tell everyone involved what support and representation is available to them ,(e.g.do you have an employee assistance programme, or other trained people who can provide ongoing care and support?)
• Maintain confidentiality.
• Ensure details of the matter are only known to those directly concerned, (including their representative or support person) and those involved in investigating and considering the reported behaviour.
• Treat everyone involved fairly.
• Get someone unbiased and trained to look into the report of sexual harassment.
• Make decisions based on the facts.
• Clearly tell the people involved what you are going to do, (taking into account privacy.)
• Keep good documentation.
• Ensure actions and decisions are documented.
• Store all information securely and where access is restricted.
What should happen during a formal investigation?
You should be consulted about the terms of reference for the investigation. A terms of reference document describes how the investigation will be run. It should include;
• The purpose and scope of the investigation, (what's in and what's out.)
• Details about the reported sexual harassment.
• What process will be followed.
• What the investigation report will contain.
• Who the manager responsible is, and who the contact person for the investigator is.
• Who the decision maker will be and the possible outcomes.
For more information, visit: www.employment.govt.nz/resolving-problems/ steps-to-resolve/disciplinary-action/investigation
Investigations should ideally be carried out by someone who is trained to carry out investigations into sexual harassment complaints and is unbiased/not involved in the incident.
The investigator will interview all parties involved and any witnesses, and review any relevant documentation to determine the facts. They will provide a written investigation report on their findings to your business. You should receive a copy of the report.
Your business should meet separately with you and the other person involved to discuss the investigation report and the actions it proposes to take, (if the complaint is upheld). It should seek your views about this.
The final decision should then be reported back to you. After this, the business should regularly follow up with you and check your wellbeing.
You should be told what you can do if you're unhappy with the outcome. You could decide seek external help, (see Section 7 WorksafeNZ guide.)
Health and Safety at Work Act 2015 - 83 Right of worker to cease or refuse to carry out unsafe work
As a worker can you choose to cease work should you feel you are at serious risk?
Yes – Under section 36 the business owner has a duty to provide a safe workplace. This is an important piece of legislation to be aware of , to enable you to stay home if feeling unsafe. It will enable you to plan your disclosure from a safe place - so you can thoroughly research your choices and be safe from retaliation at work.
A worker may cease, or refuse to carry out, work if the worker believes that carrying out the work would expose the worker, or any other person, to a serious risk to the worker's or other person's health or safety arising from an immediate or imminent exposure to a hazard. (* A perpetrator within a workplace sexual harassment case can be classed as a hazard.)
* Added information for hazard understanding within the Health and Safety at Work Act 2015
https://www.legislation.govt.nz/act/public/2015/0070/latest/DLM5977016.html?search=sw_096be8ed81a49df3_ceasing_25_se&p=1&sr=5