Advise for businesses
The below information is provided by "WorksafeNZ".
https://worksafe.govt.nz/topic-and-industry/sexual-harassment/advice-for-businesses/
This quick guide provides information for businesses on preventing and responding to sexual harassment in the workplace.
Preventing and responding to sexual harassment at work - advice for businesses
Click here for an example from Worksafe NZ of a Sexual Harassment Policy, all businesses should have one included along with all other health and safety procedures.
Worksafe NZ also provide a voluntary, health and safety performance improvement toolkit called "SafePlus" for businesses. It defines what good health and safety looks like, above minimum legal compliance.
*Excerpts taken from " WorksafeNZ – Businesses advice and guidance
www.safeplus.nz
Downloadable Workplace Health and Safety wall poster from Community First.
All workplaces should have this clearly displaced on their workplace walls to protect business and their staff.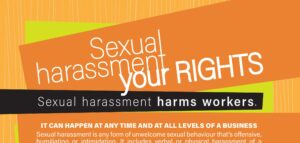 Sexual Harassment training - a service offering training on how to recognise and respond to sexual harassment in the workplace.
https://respected.org.nz/professionalservices/workplace-sexual-harassment/